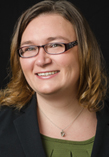 by Alice Wanamaker – Member Relations Director, CCEDC

According to a blog post published last November by Emmelia De La Cruz , 54% of US sales happen at a small business. That's a great percentage but wouldn't it be great if it were 64% or 75% or even 90%? On average, 48 cents from every dollar you spend locally, stays local, compared to only 14 cents spent at big box stores. So as we raise our percentage of sales happening at small businesses locally, we also raise our percentage of dollars that stay locally!

In 2010, American Express founded Small Business Saturday to help businesses with their most pressing need — getting more customers. The day encourages people to shop at small businesses on the Saturday after Thanksgiving. The single day has grown into a powerful movement, and more people are taking part than ever before. This year, the big day is Nov. 26 and The Carbon Chamber and Economic Development Corporation is encouraging everyone to take action for our greater good. Whether you are a small business owner or a consumer thinking about the holidays, we encourage you to shop small and find unique items for your family and friends.

As a neighborhood champion with American Express, the CCEDC is proud to help every small business promote themselves to make Small Business Saturday (and every day) a success. We have free marketing materials and kits that include welcome mats, canvas totes, pens, stickers and other materials to help make this day a success. Stop by our office at 137 South Street in Lehighton to pick up a kit for your business and customers. Small business Saturday kits are also available at the Palmerton Heritage Center and from Lansford Alive as well as various other locations throughout the County. While we encourage everyone to pack the local shops on Saturday, Nov. 26 we also encourage you to make shopping small part of your everyday life.

The comforts of small towns like having a grocery store and specialty gift shop around the corner or on the next block are spectacular. And these gems really do shine this time of year. It's so important to support our local businesses during the holidays and every day – they truly are the backbone of our communities.
Still need more reason to shop small (and often) this holiday season? Remember that the ladies and gentlemen who own, operate, manage and work the store around the corner are your neighbors and they put their heart and soul into what goes on their shelves. Each little shop where you can buy a pair of earrings or painting is unique, just like the people that run them. The stores not only offer one-of-a-kind items, but they also offer one-of-a-kind experiences.

So remember, as each day passes and Christmas shopping moves to the top of your "to-do" list that you can find exactly what you are looking for at a shop around the corner. Everything from hand carved yard signs to specialty environmentally friendly coffees and national brand bikes and clothing, our local shops carry it all and when you shop local, you help make local better!
The Carbon Chamber & Economic Development supports small businesses and is a Neighborhood Champion for the 2016 Shop Small marketing campaign sponsored by American Express. Call (610) 377-5000 or stop by our office to pick up your Shop Small marketing materials for Small Business Saturday (November 26) and the holiday shopping season.

Interested in my Small Business Saturday local shopping plan? Connect with me on Facebook (Alice Wanamaker) and see how I plan to #shopsmall and shop often! ~Alice