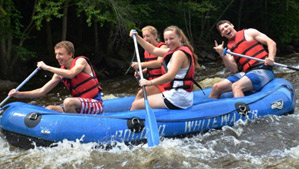 COURTESY OF GUEST BLOGGER: Sarah Zurawa, Pocono Whitewater
CLICK HERE to learn more about Pocono Whitewater.


Don't let your family be bored this summer! Get on the Lehigh River with Pocono Whitewater! We've got a trip for everybody. If you crave adventure and need to fuel your adrenaline rush, our Dam Release Whitewater trip is for you. The Lehigh Gorge offers 17 rapids, most of them being Class II and III Whitewater. You will NOT be left unsatisfied.

If the Dam Release Whitewater trip seems to be too much for you, check out our family style rafting. This section of the Lehigh River is calmer than the Gorge with Class I and II rapids. This trip is known for crazy water battles, gnarly swim sections, and #PoconoPirates. This is the perfect trip for big groups such as Boy Scout troops, school kids, youth groups, and more!

If you feel as though you need more adventure than both of these trips, you need to go on our BIG DAY OUT! It's hiking, biking, & rafting in one day! You'll spend the day with a small group of adventure-goers like you. Along with the activities, we provide breakfast, lunch, dinner and a beer! It doesn't get better than that! Check out www.poconowhitewater.com for our specialty trips, rates, and dates.

We also offer Trek Bike rentals with Pocono Biking and extreme paintball battles with Skirmish Paintball. Make this summer one for the books!





Do you think someone could benefit from this article?
If so, copy the permalink below to share this article.